"When completed, the tunnel Kim Lien withstand any rain '
Talking to VnExpress.net, Ngo Quy Tuan, deputy director of the Management Board of the key projects of urban Hanoi said Kim Lien tunnel continues flooded rubbish clearance morning 20/7 due to pump water. This will be remedied when the tunnel is completed.

- Kim Lien Tunnel flooded again after a month to operate. The reason why this happened, sir?

- 20/7 morning rainfall Kim Lien tunnel not only that most streets in the city are flooded phenomenon. Kim Lien Tunnel flooding also occurred over 1 hour. When the rain began at 0h, Kim Lien area not flooded. Water from the path of the tunnel running down, the water pump should collect them for normal operation.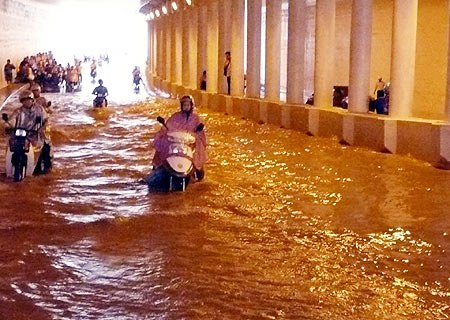 Water flooded the basement vast Kim Lien am 20/7. Photo: Xuan Tung
- So can understand the cause flooded not by system pump? But until dawn rains, the area above ground basement was flooding, water cornered too large hatch. On the other hand, due to unfinished projects, so water flowing down from above involves garbage, soil, sand ... interfere with the flow in sewer grates on the tank. Pump system with two machine works but not at full capacity, as water entering the system is too slow.

- I hereby confirm that flood conditions are not so bright 20/7 pump station. In Japan or some advanced countries, a clean environment, free of litter so much water is flowing out. But in our environment so much rubbish, so this is one of the causes of the water flow brought into an incomplete pump.

After the incident, we have asked advice inlets study how to collect water flow assurance with synchromesh on the amount of pumps.

- What is the opinion that the allocation system at the end of the tunnel pumping current unreasonable result in the slow drainage. His views on this issue how?

- Many experts are concerned about this issue. Yourself investors have requested consultants and contractors to study this long but just have to adjust to match the flow rate, the diameter collection system from the pump into the tank ditch.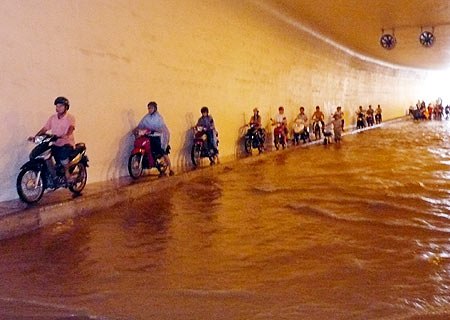 Many people go on a manhole cover to avoid flooding. Photo: Xuan Tung
- Intersections Kim Lien will be completed later this year. Meanwhile, resistance to waterlogging of mechanized tunneling would like?

- When the project is completed, I am confident tunnel Kim Lien will achieve safety criteria for normal traffic and not the flooding phenomenon. By design, the tunnel withstand 175mm rainfall per hour. With open pit area and path 4 pump operation, fully guaranteed can withstand any rain yet even rainfall year history last October 2008.- Intersections Kim Lien to be completed in later this year. Meanwhile, resistance to waterlogging of mechanized tunneling would like?

- From now until the project is completed and turned over, if it was heavy rain meant that Kim Lien flooded basement?

- When water down the hatch certainly not perfect, it is likely to have localized flooding continued. However, we have discovered the flooding phenomenon is caused by soil, sand, rubbish ... sure path to pump water the next rains will require contractors to strengthen forces frequently sanitary zones intakes, creating the flow velocity meet drainage, minimizing the risk of flooding.

Kim Lien Tunnel motor vehicle is started from April 7/2006, with total investment of over 467 billion. 140m long tunnel, 100 meters long path, tunnel width 18,5m, height 6,25m, height 4,75m traffic in the tunnel. In addition to the tunnels for motor vehicles also have tunnels for pedestrians crossing the road two branches Le Duan and Liberation, the drainage system, lighting, technical tunnels ...
It is expected that the entire project of Kim Lien intersections will be completed by the anniversary of the liberation Capital 10/10/2009.