15 students became 'Bayer Environmental Envoy 2009'
Afternoon 5/8, 15 outstanding students from the competition environment and propose solutions on the theme "Towards a green planet - Communities need your contribution" was awarded the title of "Ambassador of Environment Bayer 2009 ".

After the award for the 15 "Bayer Environmental Ambassador of Vietnam 2009", the organizers also announced two ambassadors participating typical environmental field trips and representatives of 18 other countries in Germany in November next. Two lucky students are Le Thai Son (Faculty of Foreign Economic Relations, Foreign Trade University in Ho Chi Minh City and Le Mai Hoa (Faculty of Electronics and Telecommunications, Hanoi University of Technology).

Field trip will provide an opportunity for young people to learn and practice the principles of environmental protection in Germany advanced, while creating communication network to exchange experiences among youth 19 participating countries. After returning home, two Ambassadors can join the community to raise awareness about sustainable development ...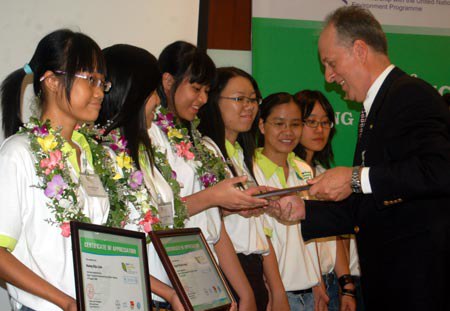 The Bayer Environmental Ambassador of Vietnam to receive the award. Photo: A.K.
"You Envoys today are performing the role of first sowed the seeds for the gardens of the future society. More than ever, we depend very much on the effort and enthusiasm of the world today's young generation in protecting the environment and protecting natural resources for future generations, "senior representatives of Bayer North ASEAN Dominikus von Pescatore expectations.

After 4 years of operation, the program has awarded the title "Bayer Environmental Ambassador" for 70 students. The "Ambassador of Environment" is regarded as one of the volunteer force dynamic environment.